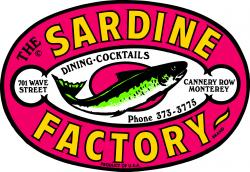 Special Event Coordinator
Featured
2020-01-09 The Sardine Factory 701 Wave Street Depends on Experience
Description:
The Sardine Factory is currently accepting applications for a Special Event Coordinator. This would be a part-time position (20 hours) at a generous wage. General duties would include:
Selling and working with clients to coordinate details of their private event
Maintaining and organize Private Events files
Process and distribute incoming/outgoing e-mail correspondence for Private Events Department
Requires office skills (phone etiquette, Word, Excel, etc.), good organization skills, attention to details.
Interested candidates can apply at The Sardine Factory or visit Cannery Row Company at 555 Abrego Street, Monterey, CA 93940. Office is open Monday - Friday from 8:00 am to 5:00 pm.
Do not contact this company in solicitation of any product or service.