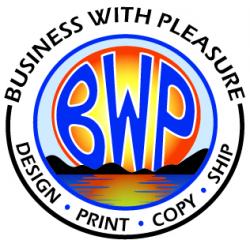 Graphic Design/Print Associate
Featured
2020-02-20 Business With Pleasure 1 Victor Square, Scotts Valley, CA Hourly rate dependent on experience hour
Description:
Graphic Design and Printing Associate - Part Time and Full Time Available - Join Us and See How We Do Business With Pleasure!
We are a locally owned full service business center.  Business With Pleasure (BWP) has a great reputation for contributing to the community, and we are looking for a Graphic Designer to work on a variety of creative projects as well as do printing. We can teach you printing if you lack this experience.  This is your opportunity to share your creative skills to benefit our community, while enjoying a wide range of projects from our customers, along with marketing projects for BWP.  We offer a great working environment, a great team, and great customers!  
Job Responsibilities

Receives and processes orders for print and finishing services from individuals and organizations. Prioritize work assignments based on such criteria as customer needs, work load and machine capabilities
Set-up files for digital and offset printing using Illustrator or Adobe Acrobat Professional.
Provide excellent customer service. 
Complete a variety of graphic design projects
Opens and closes register once per week
Print a variety of projects for customers (training can be provided)
Requirements
Detail oriented
Excellent written and verbal communication skills
Creativity and problem solving abilities
The ability to work independently and as part of a team
Basic math skills
Ability to lift up to 50 pounds

​​​​​​Other Preferences
Experience with Adobe Creative Suite, especially Acrobat Professional preferred

Paid time off
Hourly rate based on experience and skill level
Full Time Position

 
Do not contact this company in solicitation of any product or service.