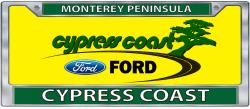 Parts Sales Front Desk
Featured
2020-04-04 Cypress Coast Ford Lincoln 4 geary plaza
Description:
Cypress Coast Ford has an immediate opening  for an experienced  Parts Sales Person, Ford experience a plus but not necessary. 
We are looking for a leader, team player and an understand of  the inter-workings of the service side of the business, someone who is customer service focused. 
 Cypress Coast Ford has been in business for over 25 years. 
 
GREAT BENEFITS.......GREAT NEW BUILDING........GREAT TEAM TO WORK WITH........GREAT BRAND
All applicants and/or job offerings subject to background check and
drug testing. All employees are expected to have and maintain an
acceptable driving record.

Please email your resume/work experience by using the apply link provided below. All applicants MUST apply on our website as well. 
www.cypresscoastford.com/employment/index.htm
Do not contact this company in solicitation of any product or service.