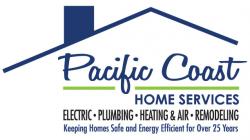 HVAC Service Selling Technicians
2021-02-26 Pacific Coast Home Services 2372 Qume Dr SUite A San jose, ca 95131 26.00-35.00 hour
Description:
Pacific Coast Home Services, has been a 5 star rated company for over 25 years . Electricians, HVAC technicians, Plumbers and bathroom/kitchen remodeling  contractors  all come together  creating a one stop service for ho me owners. 
We are looking to hire an Experienced HVAC technician with 3  years  or more of residential experience .The territory we focus on is from San Jose, CA.  to Santa Cruz . If you're running calls and have a great closing rate for HVAC service then we'd like to get to know you better. 
Why Work at Pacific Coast ? 
 Service Round Table, SGI  and ACCA members
competitive hourly rate plus 3% commission 
·Opportunity to grow 
 5 Star Rated on Premier customer service 
medical benefits
company vans/ i phones
Company laundered uniforms 
paid time off
401K plans 
We offer our customers the best equipment and warranties in t he industry
on going career development training 
 we are working on creating a 4 day work week for our techs  (you're welcome) 
work in a very positive supportive environment 
---------------------------------------------------
Submit resumes to Tricia@pcehvac.com 
Do not contact this company in solicitation of any product or service.